Hello Viking Students and Parents/Guardians,
Happy Friday! We are officially through our first week of the second semester. Schedule changes are still being completed and our students are settling into their new routines. Please continue to support your students in being on time and working their hardest at school each day. On February 2nd, we will have our Spirit Week Dance after school from 3-4. As with past dances, there is an attendance requirement for students to participate. Starting on Monday, January 23rd, students CANNOT HAVE MORE THAN 5 TARDIES leading up to the dance to be eligible to attend. Being on time to class is an expectation at Bonneville. This expectation was shared with students today and they will be reminded throughout next week.
We held our annual Viking Night this past Wednesday and it was AMAZING! Thank you to all those that volunteered and showed up to support our Future Vikings. We had a fantastic turnout, and it is always so much fun to see the excitement of our future students. This is an event that our community looks forward to and helps to build those connections with our school.
I am so grateful to be apart of the Bonneville community. I have so many opportunities to interact at various events with various families and students. I am reminded every day why I am an educator. I see the strength time and time again in this community and I am beyond lucky to be one part of it. Thank you for your continued support and all you do to make Bonneville Junior High an amazing place.
Have a wonderful weekend!
Xanadu Jr Musical Auditions
All students are welcome and encouraged to audition. Sign up outside Mr. Sase's Room 203. Auditions will be held January 25th and 26th in room 205 after school. Students need to come prepared with 1 ½ minute song and 1-2 minute monologue or short story. Please see Mr. Sase tjsase@graniteschools.org with any questions.
District Calendar Survey
Granite District Parents, Student, Employees,
This is a reminder that our 2024-2025 Calendar Choice Survey will close on Friday, January 27th at 5:00 pm.
If you have not had the opportunity to take part in this survey, please take a moment and click on the link below.
Career & Technical Education (CTE) Open House
Discover all the programs the Granite Technical Institute has to offer at their Career and Technical Education Open House on Thursday, January 26th from 4 PM – 7 PM at the Granite Technical Institute (2500 S. State St., SLC, 84115). Please see
Bus Drivers Needed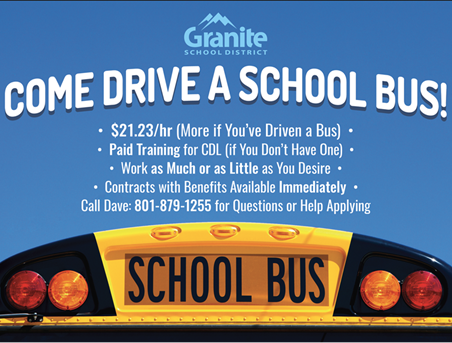 Counselor Comments
Bonneville 23-24 Class Selection
7th Grade Class Selection (current 6th grade)- Monday, January 23rd in 6th Grade Success and AVID 6 classes. DUE: WEDNESDAY, JANUARY 25TH.
8th Grade Class Selection (current 7th grade)- Thursday, January 26th in Science 7 classes. DUE: MONDAY, JANUARY 30TH.
Please visit www.bonnevillecounseling.weebly.com for more information.
Second Semester Schedules
Second semester schedule change requests are now closed. School counselors will meet with all students who signed up on the form throughout next week.
You will need to go to your current schedule until a school counselor calls you down and prints you off a new schedule. Please be patient as school counselors work through the list of students. Keep in mind that not all schedule changes can be accommodated due to course availability, class size, prerequisites, teacher recommendation, etc.
Thank you,
Bonneville School Counselors
Mrs. Jensen, A-G (sjensen3@graniteschools.org)
Mrs. Leete, H-M (smleete@graniteschools.org)
Mrs. Wood, N-Z (srwood@graniteschools.org)
Yearbooks
Yearbooks are available for purchase. Please remember that yearbooks are not part of school fees and must be purchased separately. You can order a yearbook through our Bonneville Webstore or contact our financial secretary, Ms. Morales at 385-646-3108. Get your orders in!
Facebook: https://www.facebook.com/BonnevilleJunior
Instagram: @bjh_vikings and @bjhcounseling
GO VIKINGS!
Jen Johnson, Principal