Hello Viking Students and Parents/Guardians,
A HUGE thank you to our counseling team for a great Mental Health Week! We wrapped up today. It has been great to interact with students during lunch activities! Ask your student what they learned about coping skills and about their personal calming kit with tools they can use during the school day. Take time to talk with your students and connect. I see the amazing things your students do every day and know they are capable of great things.
Just a reminder that school ends at 2:45 Monday-Thursday and 12:30 on Friday. PLEASE make sure your student is picked up promptly after school or arrange a ride for them. There is no after school supervision outside, and we cannot have students in the building after 3:00 PM unless supervised by an adult. Please make every effort to have your students picked up promptly after school.
REMINDER! Yearbooks are available for purchase. The deadline for purchase is fast approaching. Please remember that yearbooks are not part of school fees and must be purchased separately. You can order a yearbook through our Bonneville Webstore or contact our financial secretary, Ms. Morales at 385-646-3108. Get your orders in!
Have a great weekend!
Volleyball
Our final Volleyball games will be held on Monday beginning at about 3:00 PM. Our teams have had a great season and represented Bonneville well. On Monday, boys will play at Bonneville and girls will play at Wasatch. Remember to show good sportsmanship and represent Bonneville during these events.
Women Who Succeed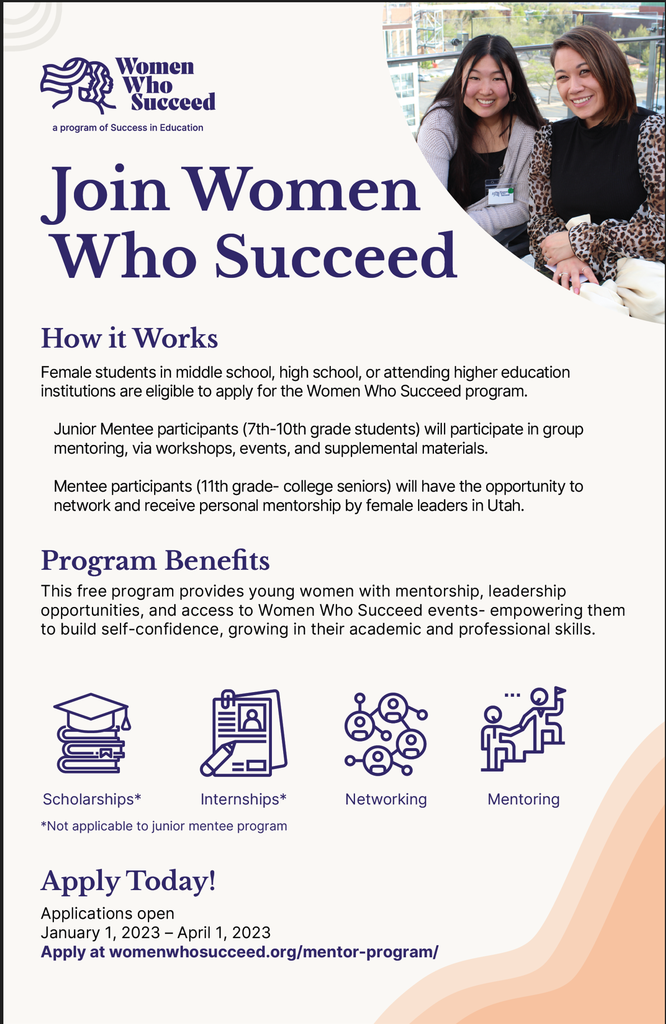 Counselor Comments
Parents of 7th grade students:
Counselors will begin meeting with 7th grade students for their annual College and Career Readiness Plan (CCRP) meetings on Monday March 6th. As part of our Comprehensive Counseling program, we will meet with your student to check grades, attendance, future planning and overall well-being. If you would like to attend this 10-15 minute meeting with your student, please email your student's school counselor directly (email is best) to arrange a time.
Every student deserves a school counselor to help with academic achievement strategies, managing emotions and applying interpersonal skills, and planning for postsecondary options. Your Bonneville school counselors are committed to helping all students navigate the S.E.A.S of junior high school and beyond. We look forward to celebrating with you.
Thank you,
Bonneville School Counselors
Mrs. Jensen, A-G (sjensen3@graniteschools.org)
Mrs. Leete, H-M (smleete@graniteschools.org)
Mrs. Wood, N-Z (srwood@graniteschools.org)
Facebook: https://www.facebook.com/BonnevilleJunior
Instagram: @bjh_vikings and @bjhcounseling
GO VIKINGS!
Jen Johnson, Principal