Hello Viking Students and Parents/Guardians,
We are quickly coming to the end of 3rd Quarter. We only have 2 weeks left. As a reminder, students do NOT have school on Friday, March 17th or Friday, March 24th. The last day of 3rd Quarter is Thursday, March 23rd. Please encourage your students to finish the quarter strong. We need them here at school, awake, and connected every day. Help them get to bed on time and take away electronics at night. Our students are still developing and growing and their brains need a break from that constant stimulation.
It is DAYLIGHT SAVINGS WEEKEND! We will turn our clocks forward. I know Monday will be rough so please encourage your students to get some good sleep this weekend.
We have determined our RISE Testing Schedule for this school year. The RISE Test is administered to every grade level in English Language Arts (ELA), Science, Math, and Writing (8th grade only). The RISE Test shows student proficiency and growth in a given subject. The RISE is a "high stakes" test and we need your support and encouragement to help our students do their very best. Please do NOT schedule vacations or extended absences during this time. Below is the schedule for this school year:
-Monday, April 24th: English Language Arts (Grades 6-8) begins
-Monday, May 1st: Science (Grades 6-8) and Writing (Grade 8 only) begins
-Monday, May 8th: Math (Grades 6-8) begins
-Monday, May 15th: Make-up Testing
Yearbooks are still available for purchase. Please remember that yearbooks are not part of school fees and must be purchased separately. You can order a yearbook through our Bonneville Webstore or contact our financial secretary, Ms. Morales at 385-646-3108. Get your orders in!
Have an awesome weekend!
Wrestling
Our first wrestling meet is tomorrow (Saturday, March 11th) at Olympus High School. The tournament will begin around 8:00 and go until approximately 4:00. Good Luck to all our students wrestling tomorrow!
Music Concert
Please join our choir, band, and orchestra students for their concert on Wednesday, March 15th. The concert will begin at 6:00 PM and all are welcome. Come out and see a great show and support our music students.
Women Who Succeed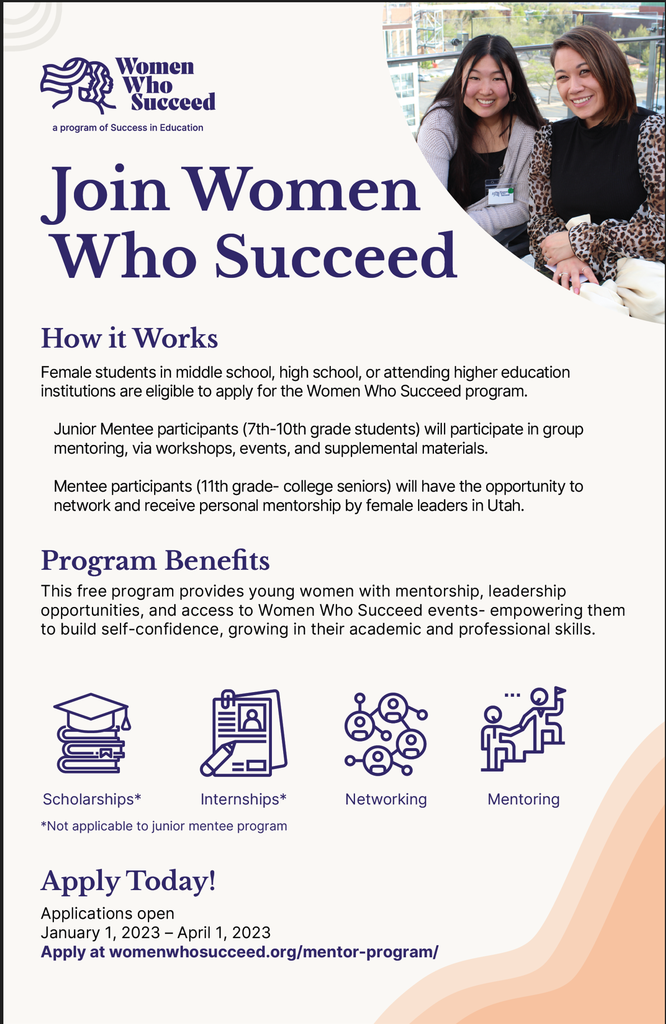 Counselor Comments
Many families have asked for resources for online learning opportunities as they prepare their summer plans. Today we'd like to introduce you to the State Online Education Program (SOEP). SOEP is Utah public education online available for students in grades 6-12.
The purpose of SOEP is to:
Provide students with access to online learning regardless of where students attend school
Provide high quality learning options for students regardless of language, residence, family income, or special needs.
Provide online learning options to allow students to acquire the knowledge and technology skills necessary in a digital world.
Utilize the power and scalability of technology to customize education so that students may learn in their own style preference and at their own pace.
Utilize technology to remove the constraints of traditional classroom learning, allowing students to access learning virtually at any time, and in any place, and give students the flexibility to take advantage of their peak learning time.
Provide personalized learning where students can spend as little or as much time as they need to master the material.
Provide greater access to self-paced programs enabling high-achieving students to accelerate academically, while struggling students may have additional time and help to gain competency.
Allow students to customize their schedule to better meet their academic goals.
Provide quality learning options to better prepare students for post-secondary education and vocational or career opportunities.
Allow students to have an individualized educational experience.
For more information, visit schools.utah.gov/edonline and or/contact your student's school counselor.
Thank you,
Bonneville School Counselors
Mrs. Jensen, A-G (sjensen3@graniteschools.org)
Mrs. Leete, H-M (smleete@graniteschools.org)
Mrs. Wood, N-Z (srwood@graniteschools.org)
Facebook: https://www.facebook.com/BonnevilleJunior
Instagram: @bjh_vikings and @bjhcounseling
GO VIKINGS!
Jen Johnson, Principal