Hello Viking Students and Parents/Guardians,
Just a reminder…students DO NOT HAVE SCHOOL TOMORROW, Friday, March 17th. Tomorrow is a workday for our teachers. Next week is the last week of Quarter 3. We only have 4 more days this term. Students and teachers have been working hard to wrap-up their work and final assessments. PLEASE help your students get to school on time and finish next week strong. After we return from Spring Break, we will begin Quarter 4 and the year will be over before we know it.
I just want to take a moment to congratulate Ms. Johnson, our music teacher, and our band, orchestra, and choir students. They have been participating in their music festivals and music concert this past week. They have worked so hard and were absolutely outstanding at the concert. They are representing our school fabulously. I am so proud of their hard work and dedication to their musical talents. We have some pretty amazing Vikings!
We have determined our RISE Testing Schedule for this school year. The RISE Test is administered to every grade level in English Language Arts (ELA), Science, Math, and Writing (8th grade only). The RISE Test shows student proficiency and growth in a given subject. The RISE is a "high stakes" test and we need your support and encouragement to help our students do their very best. Please do NOT schedule vacations or extended absences during this time. Below is the schedule for this school year:
-Monday, April 24th: English Language Arts (Grades 6-8) begins
-Monday, May 1st: Science (Grades 6-8) and Writing (Grade 8 only) begins
-Monday, May 8th: Math (Grades 6-8) begins
-Monday, May 15th: Make-up Testing
Yearbooks are still available for purchase. Please remember that yearbooks are not part of school fees and must be purchased separately. You can order a yearbook through our Bonneville Webstore or contact our financial secretary, Ms. Morales at 385-646-3108. Get your orders in!
Enjoy the long weekend and maybe some warmer weather.
USBE School Climate Survey
Dear Granite District Parents/Guardians:
The Utah State Board of Education is interested in learning more about your experience with your student's education. You are invited to participate in completing the Utah School Climate Survey. This survey includes questions about your student's learning, school safety, and interpersonal relationships, as well as your attitudes about the institutional environment and your personal involvement in school. Your responses will be very helpful in improving student relationships, learning conditions, and the overall school environment.
Beginning March 13th parents and guardians are invited to complete this survey for our school. The survey is completely confidential and brief; it contains 33 questions and takes about six minutes to complete. You can take the survey online by using the link below. Please submit your responses by May 5th.
Survey results will only be reported as group responses. There are no right or wrong answers. Responses are housed securely in an anonymous format with the Utah State Board of Education (USBE) for evaluation research purposes. All evaluation research projects are in compliance with the Family Education Rights and Privacy Act, (343 CFR 99.31 (6)).
As you respond to each item, think about your own personal experiences as a parent, caregiver or guardian at your student's school. Please answer all of the questions. For any questions about this survey, please contact the Safe and Healthy Schools Department at USBE at (801) 538-7640.
The link to complete the survey is:
Thank you for your time and participation.
Wrestling
The next wrestling tournament is this Saturday, March 18th at Cyprus High School. The tournament will begin around 8:00 and go until approximately 4:00. Good Luck to all our students wrestling tomorrow!
Women Who Succeed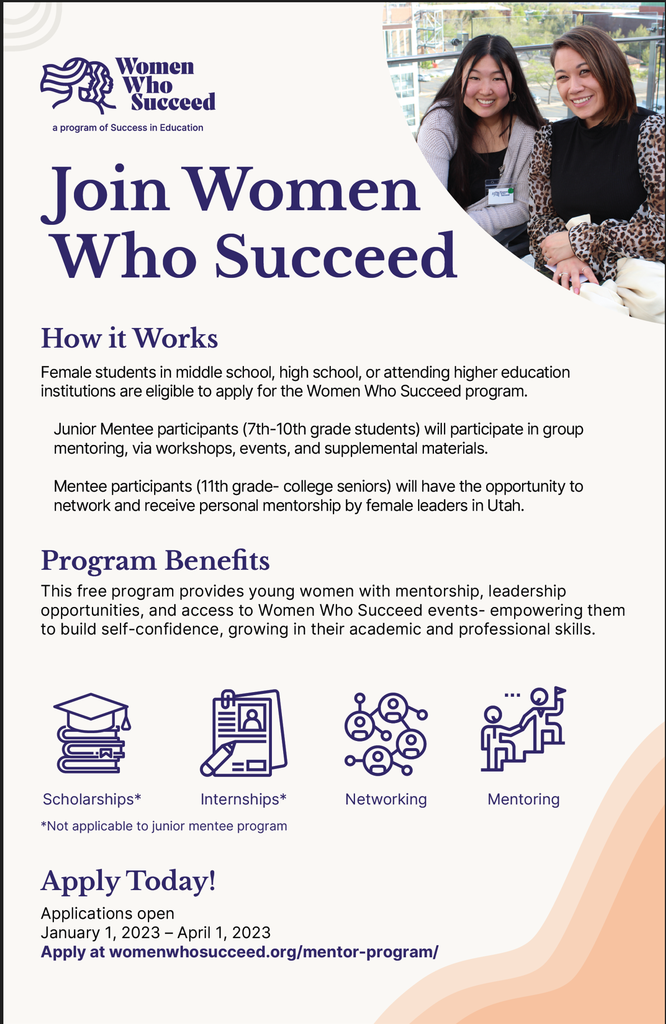 Counselor Comments
Did you know that Granite School District has a Parent & Family Resource Guide? You can find it on the Granite School District Website at: https://www.graniteschools.org/parent-and-family-resource-guide/
Take a look and see the plethora of information here!
Thank you,
Bonneville School Counselors
Mrs. Jensen, A-G (sjensen3@graniteschools.org)
Mrs. Leete, H-M (smleete@graniteschools.org)
Mrs. Wood, N-Z (srwood@graniteschools.org)
Facebook: https://www.facebook.com/BonnevilleJunior
Instagram: @bjh_vikings and @bjhcounseling
GO VIKINGS!
Jen Johnson, Principal