Hello Viking Students and Parents/Guardians,
WE MADE IT! Quarter 3 has officially ended and it is now Spring Break! I truly hope you have an enjoyable break and get to spend time with those you love. Take some time to refresh and recuperate. We will return to school on Monday, April 3rd and it will be straight through to the end…so rest up and BE READY! Report cards will be handed out to students on Wednesday, April 5th and we will celebrate our "Good Grades" party on Thursday, April 6th for all students earning a 3.00 GPA and above.
The last couple of weeks have been busy and I want to give a shout out to our students. All our music students have competed in various festivals and represented Bonneville amazingly. Our wrestlers have competed in tournaments and have excelled. Our underwater robotics team competed today and were fantastic. Today, our school was able to host the Shakespeare Festival Players and see a real-live Shakespeare play…Othello. Our students were outstanding hosts and had incredible comments and insights as they were able to interact with the actors after the show. Our Vikings were Respectful, Responsible, and Ready to Learn. I am proud of their efforts and proud to be your principal.
For students interested in participating in Track this year, it will begin on Tuesday, April 4th. Please see Mrs. Tripp or Mrs. Parr if you have questions. ALL students are invited to participate in track and we welcome anyone to join.
We have determined our RISE Testing Schedule for this school year. The RISE Test is administered to every grade level in English Language Arts (ELA), Science, Math, and Writing (8th grade only). The RISE Test shows student proficiency and growth in a given subject. The RISE is a "high stakes" test and we need your support and encouragement to help our students do their very best. Please do NOT schedule vacations or extended absences during this time. Below is the schedule for this school year:
-Monday, April 24th: English Language Arts (Grades 6-8) begins
-Monday, May 1st: Science (Grades 6-8) and Writing (Grade 8 only) begins
-Monday, May 8th: Math (Grades 6-8) begins
-Monday, May 15th: Make-up Testing
Yearbooks are still available for purchase. Please remember that yearbooks are not part of school fees and must be purchased separately. You can order a yearbook through our Bonneville Webstore or contact our financial secretary, Ms. Morales at 385-646-3108. Get your orders in!
Please be safe over the break! We will see you in April!
USBE School Climate Survey
Dear Granite District Parents/Guardians:
The Utah State Board of Education is interested in learning more about your experience with your student's education. You are invited to participate in completing the Utah School Climate Survey. This survey includes questions about your student's learning, school safety, and interpersonal relationships, as well as your attitudes about the institutional environment and your personal involvement in school. Your responses will be very helpful in improving student relationships, learning conditions, and the overall school environment.
Beginning March 13th parents and guardians are invited to complete this survey for our school. The survey is completely confidential and brief; it contains 33 questions and takes about six minutes to complete. You can take the survey online by using the link below. Please submit your responses by May 5th.
Survey results will only be reported as group responses. There are no right or wrong answers. Responses are housed securely in an anonymous format with the Utah State Board of Education (USBE) for evaluation research purposes. All evaluation research projects are in compliance with the Family Education Rights and Privacy Act, (343 CFR 99.31 (6)).
As you respond to each item, think about your own personal experiences as a parent, caregiver or guardian at your student's school. Please answer all of the questions. For any questions about this survey, please contact the Safe and Healthy Schools Department at USBE at (801) 538-7640.
The link to complete the survey is:
Thank you for your time and participation.
Wrestling
The next wrestling tournament will be Saturday, April 8th at Taylorsville High School. The tournament will begin around 8:00 and go until approximately 4:00. Good Luck to all our students competing in wrestling!
Women Who Succeed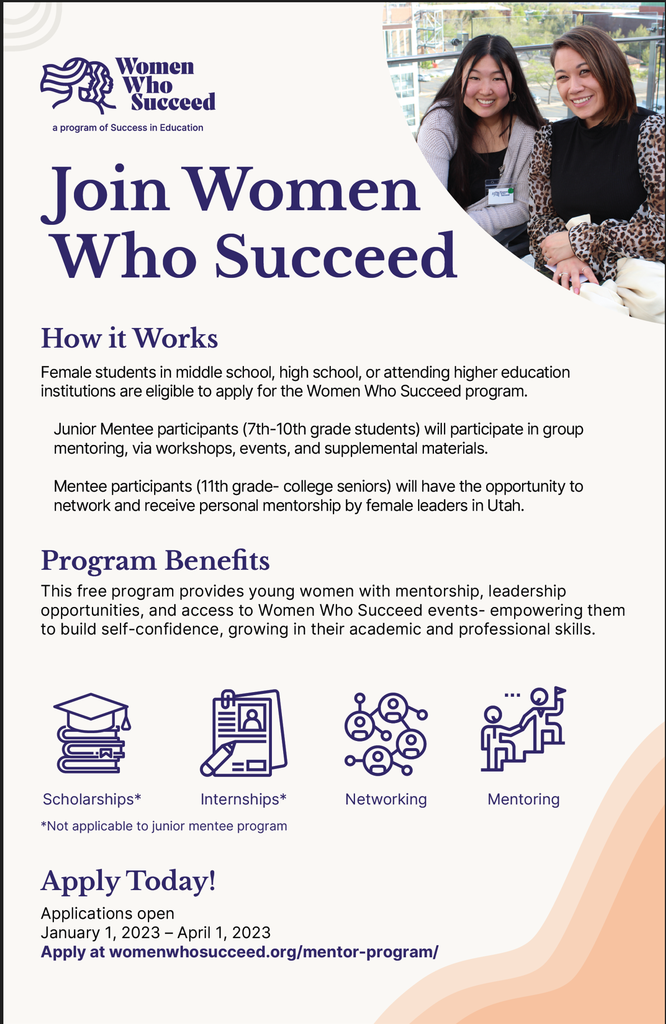 Counselor Comments
Spring Into Healthy Habits
Wash your hands!
The easiest way to stay healthy is by washing your hands frequently.
Keep moving!
60 minutes a day of exercise is best. Exercising can help build strong bones and muscles, control weight, reduce symptoms of anxiety and depression, and reduce the risk of developing health conditions.
Get enough sleep!
Teens should get an average of nine hours of sleep each night. Getting good quality sleep is important for physical health, emotional and mental development, and school performance.
Don't skip meals!
Skipping meals Leaves us with little energy, makes us feel tired, and causes headaches or makes us feel weak. Eating meals is an important part of staying healthy.
Take a break from devices!
Soaking up real-time instead of screen time will help to ease anxiety, increase happiness, and allow you to connect more with the people in your life.
Thank you,
Bonneville School Counselors
Mrs. Jensen, A-G (sjensen3@graniteschools.org)
Mrs. Leete, H-M (smleete@graniteschools.org)
Mrs. Wood, N-Z (srwood@graniteschools.org)
Facebook: https://www.facebook.com/BonnevilleJunior
Instagram: @bjh_vikings and @bjhcounseling
GO VIKINGS!
Jen Johnson, Principal